#CherokeeMemories Contest Winner
6.15.2020
Photo by Keona Hornbuckle Long
As part of our #CherokeeMemories photo contest on social media, we asked you to share some of your favorite memories of visiting Cherokee, NC, and, wow, did you deliver! We received so many wonderful entries that it was hard to pick one winner.
Thanks to everyone who shared their stories and photos from Cherokee, NC. It was a delight to hear about your Cherokee experiences and what you love the most about being here.
The winner of the $100 to the online gift shop of the Museum of the Cherokee Indian is Keona Hornbuckle Long. She shared the above photo with us, along with these words:
My son looking upon the mountains off the parkway. He was too young to fully understand our (Cherokee) history there, but this picture showed me maybe his heart knew.
Thanks so much for capturing this moment, and for sharing it with us, Keona!
Honorable Mentions
Here are some of the other photos that were submitted by our social followers that really capture the spirit, and the range of experiences you can have in Cherokee, NC. Whether you've been to Cherokee before or not, we hope to see you all again soon, so that you can create new Cherokee memories to last a lifetime.

Brandon Rozier shared the above photo with the note: Love watching the elk there. So ready to be there again! Check out our tips for elk viewing in Cherokee.
Enjoying a nice shady spot by the Oconaluftee Indian River. Photo by Kim Tucker Ruark. Learn more about Oconaluftee Islands Park.
Look at that catch! Photo by Devin Berry. Learn more about fishing in Cherokee, NC.
Nichole Stevens shared several photos, including this one taken from the outside of the Museum of the Cherokee Indian showing the Sequoyah statue, above, and Soco Falls, a twin waterfall in Cherokee, below.
Nichole wrote:
We LOVE Cherokee. I could spend all day in the museum, and as a non-shopper, I spent days wandering through the stores. This was the highlight of our trip and we can't wait to come back.
Toni Scirica Rowe shared the image above, from the Oconaluftee Indian Village.
Toni wrote:
We brought our 3 oldest granddaughters to spend a day at the Village then to the Drama. I was so proud of them asking thoughtful questions while learning and enjoying such an amazing place. Now we bring each grandkid when they reach the age of 10. A truly amazing experience!
Tanya Mays Blalock shared this photo of her godchild meeting Beloved Man Jerry Wolf at the Museum of the Cherokee Indian. Jerry passed away in 2018, but those who met him will never forget him.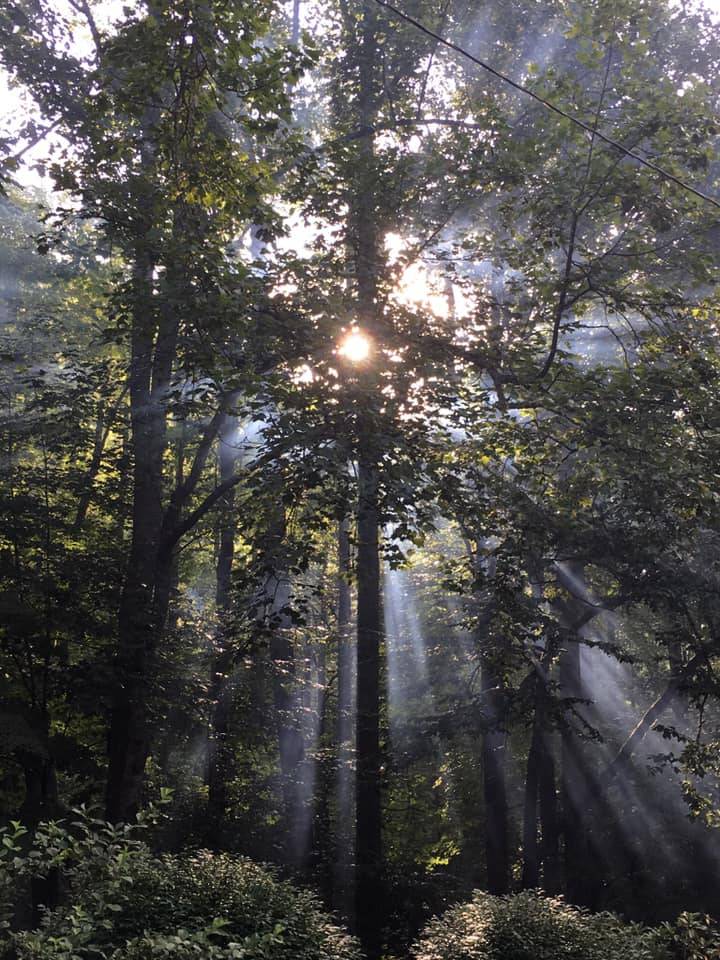 OQuinn Dani shared this gorgeous shot of the sun peaking through the trees in Cherokee. OQuinn wrote:
The mountains are calling! We are so sad we couldn't camp out this spring but we will be there in the fall! Ten years in a row and counting
Thanks again to everyone who shared their Cherokee memories with us!
To see more amazing photos from Cherokee, be sure to follow us on Facebook, Twitter, and Instagram.
Featured Points of Interest
---
Next Post »
« Previous Post
&nbsp