Experience the Spirit of the Drum at the 2018 Eastern Band of Cherokee Nation's 4th of July Powwow
6.13.2018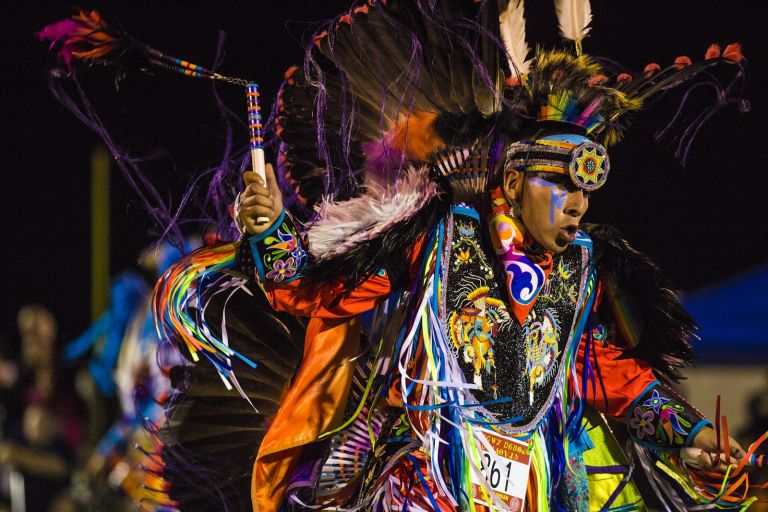 Friday, June 29, through Sunday, July 1, come to the 2018 4th of July Powwow in Cherokee, North Carolina. This three-day event attracts people from around the world for dancing and drumming competitions, tribal regalia, crafts, food, and fireworks. This ticketed event is open the public. Everyone is invited to the Cherokee Powwow to hear, watch, enjoy, and learn about Native American cultures in the beautiful Smoky Mountains of North Carolina.
2018 Host Drum: Grammy Nominated Northern Cree
The 2018 Host Drum of the Cherokee Powwow will be Northern Cree, one of the most well known and respected Native American musical groups in the world. Hailing from Alberta, Canada, Northern Cree's appearance at the 43rd annual Eastern Band of Cherokee Nation Powwow will be their first-ever east coast Powwow in the United States.
Native American Music Award-winning Northern Cree has produced over 37 albums. They have been nominated for eight Grammy Awards and performed live at the Grammy Awards Ceremony. Northern Cree will be performing on Friday, Saturday, and Sunday of the 4th of July Powwow in Cherokee.
Powwow producer and owner of Deer Clan Productions, Daniel Tramper, describes the members of Northern Cree as "humble" people "who love sharing their culture with the world."
Daniel says because Northern Cree has a large following of dancers, he expects this to be the largest Eastern Band of Cherokee Powwow ever. Last year, nearly 400 dancers competed at the EBCI's Powwow. This year, Daniel hopes to see between 800 and 1,000 dancers.
Cherokee dancers, The Warriors of AniKituhwa, will be performing on Saturday night before the fireworks display. Daniel says that the Powwow will showcase Cherokee's own tribal dancers "to show the Cree people our tradition."
What is a Powwow?
Daniel says that if this is your first Powwow you can expect to "experience a lot of Native culture from different tribes."
People from many nations travel long distances every year to spend time with the larger Native American family. Daniel's wife Teresa Reed says that you don't have to be related by blood to feel like family at a Powwow. "When you are out there, you are part of the family. You all watch each other's children."
Daniel thinks of a powwow as a Native American church service. Traditional songs and prayers are woven throughout the event. "We always start with an invocation before dancing." Tramper also says a powwow is a place for, "camaraderie and people enjoying themselves. It's a fun culture, a grateful culture. We love to laugh. We love to joke."
If you have never been to a powwow before, Daniel promises "you'll take away an experience you've never had before—the spirit of the drum. The songs are powerful songs to sing. They'll make you want to get up and dance. You'll experience a lot rich culture that you won't see anywhere else."
Singing, Dancing, and Drumming Contests
Competitions are a big part of a powwow. Daniel explains, "Native people have always been competitive. We've got a game in Cherokee called stickball. We call it the little brother of war. That's where we settled our differences. With the powwow, we get out there, we dance, we compete."
This Powwow will feature a variety of contests and dance styles including Traditional, Jingle, Grass, Chicken, Cloth, Buckskin, and Fancy. You will see Native American dancers compete against each other within a wide range of age categories, from 0-5 (Tiny Tots) to 55 and older (Golden Age).
There will be three special contests during the Powwow. On Friday night there will be a Golden Age Men versus Golden Age Women dance. Daniel says this special contest is a way of honoring and "giving back" to elder dancers. "If it weren't for you, we wouldn't be here."

On Saturday there will be a special hand drum contest as well as exciting dance competitions between the Men's Fancy Dancers and the Women's Fancy Dancers. The winner of the Men's Fancy vs Women's Fancy contest will be decided Saturday night in a dance-off.
Tiny Tots competitions will happen on Friday, Saturday, and Sunday for dancers under the age of five. Deer Clan Production's Teresa Reed says that the Tiny Tots competitions are valuable learning experiences for the children. Their parents can often be seen coaching them during the events. She also said that the Powwow gives the children the opportunity to see their "heroes" dancing.
Enrolled members of any nation may register to compete in Powwow contests. Please make sure to bring your Certificate of Degree of Indian or Alaska Native Blood (CDIB) card at the time of registration.
Craft and Food Vendors
Because of the larger crowds that are expected to come to the Powwow this year, Deer Clan Productions has invited a larger number of food vendors. Several favorite local Cherokee food vendors will be on hand alongside vendors from other tribes. Daniel says that every year he brings in one new vendor from a different tribe so that people can compare the differences between the traditional foods of various Native American tribes. This year, the Iroquois Eatery will be traveling to Cherokee, NC, to offer their own traditional fare.
You will also have the opportunity to shop for authentic Native American crafts at the Cherokee Powwow. Bone and shell crafts, pottery, beadwork, weaving, carving, and an array of other traditional crafts will be offered for sale by artisans from various nations.
Fireworks
Daniel promises that again this year the Powwow fireworks will be "one of the best displays in Western North Carolina." The fireworks will begin about 10 p.m. on Saturday night and will last about half an hour.
Tips for Enjoying the Powwow
Because the crowds at this year's Powwow are expected to be larger than in years past, Daniel recommends that people come early and plan to stay. Parking is free, but on a first-come, first-served basis. Carpooling is encouraged.
Deer Clan Productions will be bringing in bleachers for Powwow seating, but you are welcome to bring a lawn chair.
This year, for the first time, a 9'x16' video wall will be installed at the venue so that everyone will be able to see the dancers.
One piece of Powwow etiquette that Daniel would like for people to keep in mind is that you should ask permission before taking photographs of dancers in their regalia. "Different tribes have different beliefs. It is just polite to ask. You wouldn't want me to come up in your face and start taking pictures of you… Be mindful and respectful." He added that most of the dancers will be more than willing to talk to you about their culture if you ask them.
Event Dates and Times
Friday, June 29, 2018 - gates open at 5 p.m. ending at 10:30 p.m.
Saturday, June 30, 2018 - gates open at 12:00 p.m. Fireworks start at 10 p.m.
Sunday, July 1, 2018 - gates open at 12:00 p.m. Contest winners announced at 6 p.m.
Ticket Info
Tickets are $12.00 per day. This is a cash only event! Bring cash to purchase tickets at the gate the day of the event.
Location
Cherokee Acquoni Expo Center, 1501 Acquoni Road in Cherokee, NC 28719
Schedule
Come to the 4th of July Powwow to see for yourself why the Cherokee Powwow has become a beloved annual tradition for so many. See the full schedule of events here.
Featured Points of Interest
---
Next Post »
« Previous Post
&nbsp